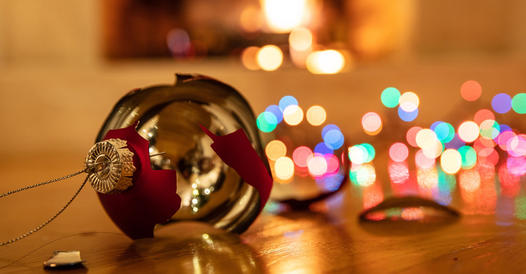 The holiday season is supposed to be full of joy, celebration and time spent with loved ones. But with all the hustle and bustle of the season, things are bound to occasionally go awry.
You accidentally staple your finger with the staple gun when hanging Christmas decorations. A heavy box of ornaments falls off a shelf and lands on your head. Or — heaven forbid — you fall from a ladder while hanging holiday lights along your roofline.
All of those are real, holiday-related injuries from 2021 documented by the U.S. Consumer Product Safety Commission (CPSC), which collects annual data on emergency room visits.
Many holiday-related injuries happen when someone is putting up or taking down holiday decorations, the database shows. In addition to falling off ladders (a lot!), people tend to cut themselves when they handle or step on broken ornaments (another big one) and get poked in the eye by errant pine needles.
One poor fellow in 2021 accidentally ingested a piece of a broken ornament that had fallen into his soup.
Strains and sprains from carrying heavy objects are common, as are complaints of chest pain and other possible symptoms of a heart attack.
"Certainly, we see accidents and illnesses at all times of year, but there are some holiday-specific types of injuries that happen every year in December," says Thomas Waters, an emergency medicine physician at the Cleveland Clinic.
About a third (30 percent) of Americans who celebrate winter holidays say they have been injured while participating in holiday-related activities, according to a 2022 ValuePenguin survey.
Another problem during the holidays is that people tend to put off getting medical attention, because they don't want to disrupt the festivities or miss out on visiting with family, says Michael D. Levine, associate professor of emergency medicine at UCLA. Unfortunately, delays often lead to worse outcomes, Levine says.
To learn about eight common holiday-related injuries and accidents, along with real-life examples from the CPSC database and smart advice on how to stay safe, from AARP, CLICK HERE.