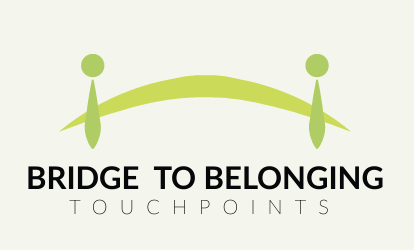 Bridge To Belonging
A Touchpoints Program bringing joy, purpose and belonging to those with mild cognitive impairment and early-to-moderate dementia.
When someone you love needs more than Assisted Living, but is not ready for
Memory Care, our concierge-level program can help them live their very best life.
LEARNING & COGNITIVE STIMULATION:
Learning new facts and skills they have always wanted to learn, and having new experiences.
INTELLECTUAL CONVERSATIONS:
Participating in conversations about present life while sharing their expertise and wisdom.
MUSIC & MOVEMENT:
Having fun and firing up the brain through music and dance.
EMOTIONAL SUPPORT:
Connecting as a human being with other group members by expressing frustrations, finding a sense of purpose through community service, and gaining insight into their place in the world.
Sample programs include: The Art of Listening to Music, Mind-Body Connection,
World Events Lecture Series, Kindness Kits for the Community, More Than Memory,
and Eating for Better Brain Health.
Ready to find out more?
We'd love to hear from you!