Safety of Residents and Families
At Village at Belmar, we have made a substantial commitment to integrate state-of-the-art safety features into the senior living community. We want everyone—our residents, their families, our prospective residents and visitors from outside the community, and our staff—to feel safe and at ease.
Cleaner Air for Better Living
At Village at Belmar, health & safety are our top priority! With the recent outbreak
and spread of Covid-19, we have made it our top priority to integrate some of the best state-of-the-art air purification technology into our community to help reduce the risk of outbreaks and infections. The installation of the Auto-Cleaning Needlepoint Bipolar Ionization (NPBI) System
Clean indoor air that is safe, healthy and virtually virus free without introducing any harmful disinfectants, aerosols or by-products

Proven 99.4% effective at eliminating airborne particulates and pathogens that cause COVID-19, Norovirus, Influenzas and more!*

Significantly minimizes airborne allergens, bacteria, mold and dust throughout the community

Environmentally friendly system that reduces our community's overall carbon footprint and lowers energy consumption by nearly 30%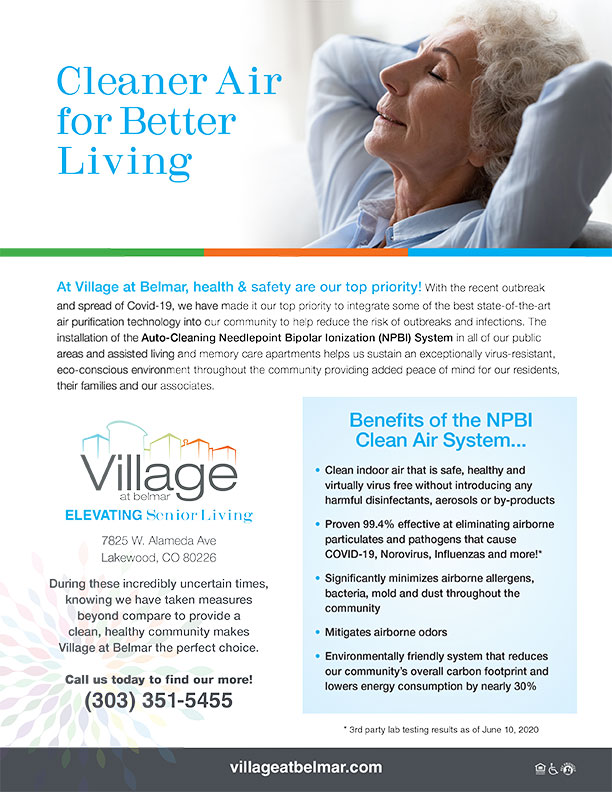 Optimizing safety through ongoing protocol updates
From the beginning, we've focused our routines and procedures for safeguarding public health in our community. We continue to review and update these guidelines on a regular basis through the course of the Coronavirus pandemic to ensure our residents enjoy safety, service and satisfaction at the highest levels possible.
Some of our current protocols include:
One Community entrance secured and monitored

All associates have temperature checked prior to each shift

Sufficient personal protective equipment (PPE) for associates

Everyone entering community is required to fill out COVID symptoms questionnaire

Residents have vital signs checked twice a day

Residents are monitored for COVID-19 symptoms each shift

Continued social distancing (implemented March 15)

No outside visitors allowed inside community (exceptions are made in certain situations, but pre-screening is required)

All staff and essential outside providers must wear a mask at all times

Scheduled window visits for families to visit residents
Access to COVID-19 tests, with results within 48 hours

All high-touch areas bleached three times a day

Move-in protocol requires 24-hour pre-move-in negative COVID-19 test and 14-day quarantine, followed by additional test at 10 days of residency

Communal dining and activities discontinued

Meal delivery to each apartment, using disposable plates and utensils

Scheduled window visits for families to visit residents

Quarantine for 14 days for residents that go to hospital or medically necessary appointments followed by a negative COVID-19 test

All shared equipment is disinfected after each use

Outside salon services discontinued — Village at Belmar associates perform hair washing in our onsite salon
So much has changed — but some things haven't
Embracing the "new normal" with unwavering dedication.
We're all adjusting to a new normal, each in a multitude of ways. Nevertheless, recent circumstances don't change some of life's other realities. People continue to seek the right community for their next move and families continue to search for exceptional care for their aging loved ones.
From our first days of planning Village at Belmar, this remarkable community has been guided by what we call a "passion for compassion." Providing a safe, nurturing, fulfilling community has been our core mission from the beginning. That continues through the current COVID-19 crisis, and it will continue long after the pandemic subsides.
Not all senior living communities are the same.
At their best, senior living communities — including Village at Belmar — provide seniors and their families superior safety, security and peace of mind at all times … and especially during times like these.
Compared to living at home — with trips for groceries and medical care, and incoming visitors, delivery people and maintenance providers — communities like ours offer a secure, controlled environment that's monitored 24/7. Incoming guests are limited and screened. Social distancing is supported and reinforced and family connections are facilitated with safety and well-being in mind. That's in addition to the advantages of maintenance-free living, prepared nutritional (and now delivered) meals, attentive, dedicated staff, meaningful social interaction, wellness monitoring, and medical care close at hand.